Posted 20 December 2010 - 03:38 AM
How do Goffin's cockatoos compare to Umbrella/Moluccan Too's in terms of cuddliness, destructiveness, need for attention, etc.?

---
Posted 20 December 2010 - 04:55 AM
They're not as bad, but not that far behind them. They're not so prone to become 'velcro toos', but also demand a lot of interaction, and enrichment in their lives. Mine is quite content at times to play by herself, other times she's a royal pain in the butt, and always wanting to be underfoot. She must be involved if we're doing something. Scrubbing the floor, she's down there guiding the mop. Mixing cookies, she's helping by stirring the batter. Reading a book, she's nibbling the story to a more manageable length. But when she's content to sit and preen, no bird is sweeter.

Their size makes them more handle-able, and their voices not as loud. They (or at least mine) have a very raucous, repetitive call they use when demanding attention. It is enough to jangle good nerves, and would drive someone with sensitive nerves crazy.

They are just as destructive, but the smaller beak means they take a little longer destroying your stuff.

Becky.....Where Fur and Feather Meet.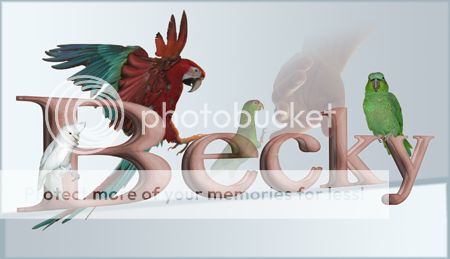 My Albums
---
Posted 20 December 2010 - 05:00 AM
A TOO is a TOO is a TOO. They think they are large TOOs. They just come in a smaller package.

John
---
---
0 user(s) are reading this topic
0 members, 0 guests, 0 anonymous users