Posted 11 January 2011 - 08:43 PM
Are lories and lorikeets the same thing??

---
Posted 11 January 2011 - 09:46 PM
Yes and no. They all belong to the same subfamily, and are usually lumped into the name of "lories" - but lories are larger bodied - usually with shorter/blunter tails and lorikeets are smaller bodied with longer tails. AT least that is from my understanding - but the two terms are used in exchange for eachother quite frequently.
Monica & Fids (Fids = Feathered Kids)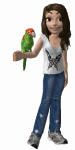 ---
Posted 11 January 2011 - 09:58 PM
ohhh I see, hmm thats interesting. They are very pretty birds. I love rainbow lorikeets! I was considering changing which type of bird I wanted buuuut then I read that lorikeets are very loud and very messy (but all birds are messy lol) so I'll stick with a GCC for now. =)

---
---
0 user(s) are reading this topic
0 members, 0 guests, 0 anonymous users