HI All. I haven't posted here in a long time. Some of you may remember Christmas 2009 where Macaw & Cockattoo Rescue of New Mexico (FoxersArtist) raised funds to rescue Samantha, a female M2 in Florida.. We called her our Christmas miracle. Because she was in Florida, I volunteered to foster her, knowing absolutely nothing about Toos. My heart just wrenched when I heard her story and saw her. I actually lost sleep and knew I had to help.
I ended up fostering Samantha aka Samsam for over a year. Since we had no luck finding her a home in Fl, we sent her to the rescue at the end of January this year and low and behold, she was adopted in her forever home in TN after a month at Anna's.
I'm happy to report Samsam is a very healthy, happy girl. She is the sweetest little M2 I've ever met and doesn't have a mean bone in her body. I became very attached to her but unfortunately could not keep a Too in the house with 2 macaws and my allergies. But just thought I'd share some memories of her journey and recovery while she was with me.
She's still quite shy, but very loving and became very vocal.. lol.. with some very unique vocalizations for an M2 from what I've been told.
So for those of you who remember Samsam, here are some pics a videos of her during her stay with me.
My Newtnewt still does her "arrrrrr" once in awhile. They kind of liked each other. he he You may click on the pictures to enlarge them if you wish.
Samsam - her first day and straight to the vets.. She was so sick
Samsam her first day home with me. feeling better and out of physical danger from being so ill
Samsam 1/23/10 Progress. She decided to come out of her cage on her own for the first time after two weeks at my home (and still in quarantine). Feathers looking better and starting to behave somewhat like a Too - still very shy but curious.
Febuary 2010 Little Miss Thing starting to feel "much" better and starting to act like a Diva.. he he
March 2010 - Samsam is really beginning to get comfortable and "sounding off" all happy and excited. Listen to her little "roar" at the end of her M2 scream.. lol
Samsam after 8 - 9 mos at my home... Looking and acting like a Too and the most beautiful, angelic face I've ever seen.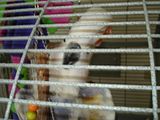 Her last day with me in Jan 2011 before we went to the airport "sporting" her little feathered bikini bottoms with matching "feathers" over her bosom. he he
She's now a happy healthy girl and in a good home. Thanks to all who helped with her here and for your support during while she lived with me. I certainly learned a lot.