Parrots Rescued From Smugglers
Started by
Monica
,
Aug 25 2011 12:27 AM
Posted 25 August 2011 - 12:27 AM
Parrots Rescued From Smugglers
Wildlife officers release 200 African grey parrots back into the wild after they were rescued from smugglers.
Video by:
U-Zoo
Monica & Fids (Fids = Feathered Kids)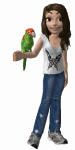 ---
Posted 25 August 2011 - 01:00 AM
Good. Tired of all the smugglers getting away with this!!!
Thanks for sharing Monica!!

Thankyou so much for my WONDERFUL sig macawpower58!!
---
Posted 25 August 2011 - 04:14 AM
You're welcome! Saw it on my messenger, just had to share! I'm glad to see that there were some that were able to be released instead of being stuck into captivity - unable to be released being too far away from home!
Monica & Fids (Fids = Feathered Kids)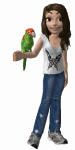 ---
---
0 user(s) are reading this topic
0 members, 0 guests, 0 anonymous users