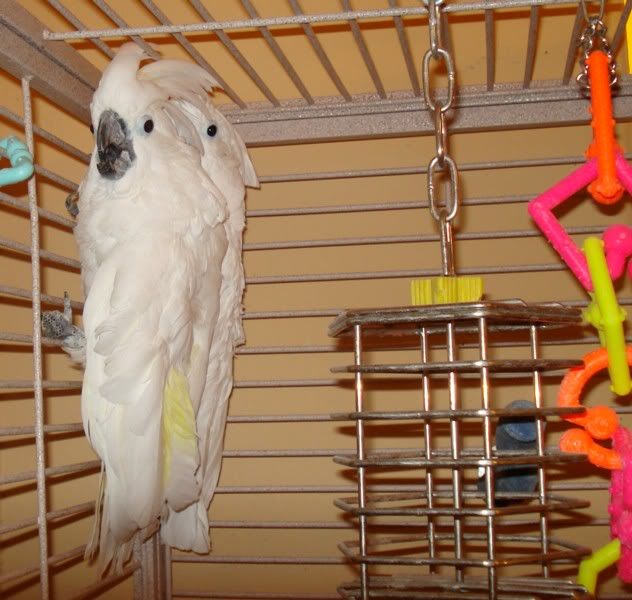 What?! A two headed cockatoo you say? No, that's just a beautiful love story in the making!
A little over a year ago, M&C Rescue took in a group of birds from CO who were in very rough shape, including a very frightened umbrella cockatoo named Eden. This little fellow was missing an entire foot and his other foot was severely deformed. From the moment he came to us, we realized that unlike many handicapped birds, Eden felt very ashamed of and insecure about his handicap. To make matters worse, Eden was terrified of people and his injuries were likely the result of being left free flighted in a basement with over 40 other birds (including macaws) who were also frightened, hungry and striving to survive.
Eden spent the better part of the past year in one of our foster homes where we hoped he would gain some courage with people. Although he has become a bit more confident and can be brave when he feels he must defend himself against scary people, he has seemed to pine deeply for the companionship of another bird. This posed a real problem because most parrots with handicaps will become picked on by other, healthy birds. It's just their nature. We considered placing Eden in a sanctuary but there were concerns that Eden would not survive with his handicap in a flock. We usually avoid pairing male and female cockatoos because males can sometimes become aggressive toward their females and we just didn't know what Eden might do with a female, despite proving to be pretty even tempered overall.
When 116 birds were removed from a home in Portland TN over the summer, we discovered that one of these birds was also an umbrella cockatoos with handicapped feet. We were delighted when we were approved to take over the care for this misfortunate cockatoo, whom we have named Esther. Esther and 5 others were quarantined with Gulf Coast Exotic Bird Sanctuary before they could come to our rescue and while traveling back home with this precious flock, I spent a long time thinking about what might be best for both of these cockatoos. Despite some reservations about pairing cockatoos, I began to feel very strongly that these two individuals should be given a chance as it seemed that both of them pined for a feathered companion and both were handicapped. We decided to put the birds in one of the largest cages we have and put them in an area where they would have supervision throughout the day.
This photo was taken less than a minute after introducing Esther (left) and Eden (right) to one another. The bond was instant and the relationship is, thus far, respectful and healthy. The birds are mutually preening, eating together, playing together, talking to one another (in adorable cockatoo baby talk), but also have been giving one another little bits of space to have needed "alone" time. Esther is currently being medicated for an infection, and instead of trying to protect his new girlfriend by biting her or bullying her to get her to flee when we have to capture her, he plasters himself against her and offers himself up to be taken instead - fearlessly not moving out of the way when we reach for her. This is truly a match made in heaven and we are so happy that though many miles seperated them, they have managed to find each other at long last!
-Anna