Posted 10 October 2011 - 12:41 PM
Can anyone tell what sex this budgie is? It's only 5 weeks old.[ATTACH=CONFIG]60473[/ATTACH]

---
Posted 10 October 2011 - 01:30 PM
I'll go with male! I can't tell what mutation (probably lutino), but knowing what his parents mutations are could help, but from the picture alone, I'm going with male. For now!
Monica & Fids (Fids = Feathered Kids)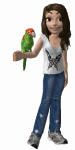 ---
Posted 11 October 2011 - 07:58 AM
hmmm, i have no idea (not good with sexing especially with all mutations :S ). but, what an adorable face!!

Save your health, save the planet, save animals: go vegetarian/vegan!

Spread the word. Change the destiny of billions of helpless animals.
---
---
0 user(s) are reading this topic
0 members, 0 guests, 0 anonymous users