These are my two female black-headed caiques, Joule (up) and Zetta (down):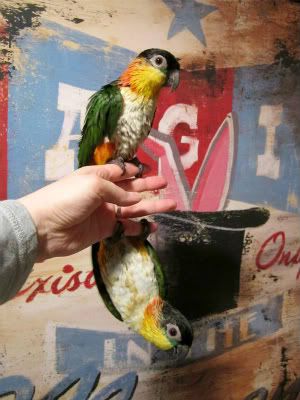 Joule turned two-years-old in February and Zetta was one whole year in March. As with any teenager, Joule is constantly testing (she's on a bit of a roll today). They both speak ("what are you doing", "Joule, be quiet", "peek-a-boo", "Zetta", "Wahoo!", etc.) and whistle (for the dog or wolf whistle), as well as their favorite tune being the 1812 Overture (just a tiny bit of it, minus the cannons).
They share their home with Ollie (rock dove), Max (dog), two senior felines, Darby and Chase, and three betta fish and while I'm not quite sure if this is allowed their pictures are here:
http://www.pigeons.b...pack-45043.html
It's a long read, but skimming the first couple pages will give you the basics if you're curious.