I got the idea from someone here last fall that did this for her budgie.....
I peel of the outer layers of husks and throw away....
then cut the very tip of bottome off and discard also..
Cut the top about 1 inch in from tip of corn.... toss the top end..
On the bottom cut to where you get just a bit of the corn ( so all husks now loose) save that end cause can also use for birds... just peal the majority of husk of... can be a foot toy for larger birds or another chew for tiels, fresh or dried..
careful unroll all husk from ear of corn .. rinse under tap water for first clean and to get any stray silk off...
I then clean the silk off corn and boil.. the either cut into rounds for fids when cool or cut corn off cob then cut the cob into rounds and oven dry on rack at 250 till try.. then can drill holes and use dried cob for birdy chew enjoy also..
OK.. back to those corn husks now...
After first rinse.. put in clean dishpan that has either GSE or ACV in and left soak for 30 min..
then pull out .. shake dry and start tearing the husk into strips..
I just stop before go all the way to bottom of husk where was attatched to stalk so can just put the strips thru side of cage later .. or finish tearing for small pieces...
This sound like alot of work.. but really is not...
I then put the husk in cardboard flats as I shred . to let air dry...takes about 2 days to dry.. the store in ventelated contaner..
Cardboard flat of the corn when just torn...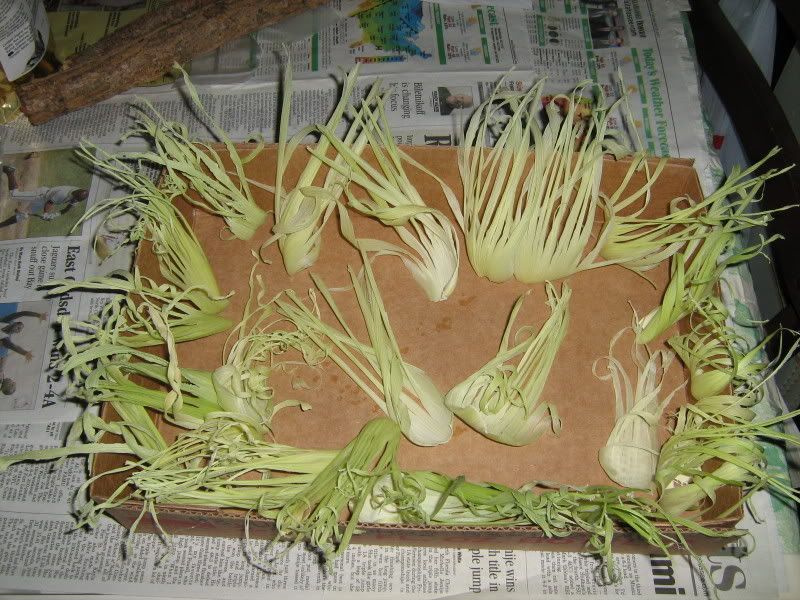 A couple of hours later... corn starting to dry and curl..
That night before bed....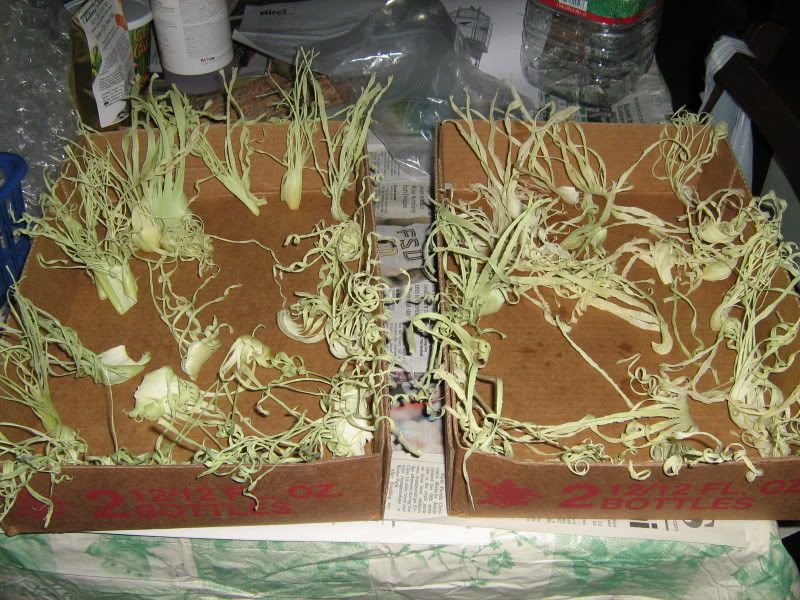 2 days after starting to dry...sometimes depending on the husks and humidity let dry for 4 days.... before put in plastic bin to store that has one of those lap over tops... so is not air tight.. so if any moisture left will not mold..
And pics of some of the ways I have used with toys.
A few of the larger strips tied on sides of wicker plate holder playground I make.. this one only has a few.. but have almost covered rim before when doing this with corn husks and rafita...
the two toys on right.. have the corn husks used.. the husk and rafita tied onto a pieces of plastic chain.. and the other has small strip of husk and rafita stuffed into the wiffle ball for shred/forage.
One of the"free" bird toy shreds I use .... LOL
This is the amount of husks got off of 4 ears of corn.. that would have gone to compost pile.. but are now birdy shred stuff...