EASY FORAGING IDEA'S
By Emily "FreedomoFlight"
The concept of foraging and parrot enrichment has been a source of great interest and news in the avicultural community.
Pet bird owners are being taught the importance of providing daily enrichment for their pet birds, and studies are showing how beneficial the act of foraging can be for a caged bird. Do you know, in the wild, many birds will actively forage for 3-8 hours per day? In our homes, our birds are provided with all they need, including a big bowl of food and water. The guesswork is completely taken out of the equation. Convenient for us, bad for them.
So what can we do about it?
While there are many good foraging and enrichment sources out there, one thing they fail to mention is this: how time consuming these activities can be for the human. some of the more involved enrichment activities can take time and planning to be able to implement and are not easily replicable once the bird has gotten through with it. Its not feasible for most working humans to be able to put their birds on a complete foraging system, much less consistently provide foraging enrichments on a daily basis.
So what is a bird owner to do?
The answer? Easier then it sounds- find simple foraging solutions that will entertain your bird, are easily replicable for you, and not put a strain on your budget. Is this possible? Of course it is! The following are five simple, easy, and engaging foraging activates that fulfill those requirements.
1)
Repeat after me.. a skewer is your best friend. Skewers such as the ones made available by
Jungle Talk
are stainless steel wonders of the avian world. Simple in design, easy on the budget yet they can be used so many different ways! String your birds fresh fruit and veggies on this skewer and hang in the cage. You can even drill nuts and dried fruits to assemble on the skewer. Outside of any food preparation, this toy takes little to no time at all and can be refilled to put in the cage another day.
2)
The Hollee Roller by JW pet products
is another fantastic must have toy. Not only is it durable and comes in multiple sizes for all size birds, but its lots of fun! You can put it on the cage floor stuffed with nuts and other goodies for the birds to pounce on and chase after, or a quick link in one of the holes can turn it into a hanging toy. And the fun does not stop there. If your bird is an advanced forager, you can wrap his food up in coffee filters, or bits of newspaper, and then insert that into the roller for added challenge. Another easy, cheap, and refillable toy that has many opportunities, and takes little time to prepare.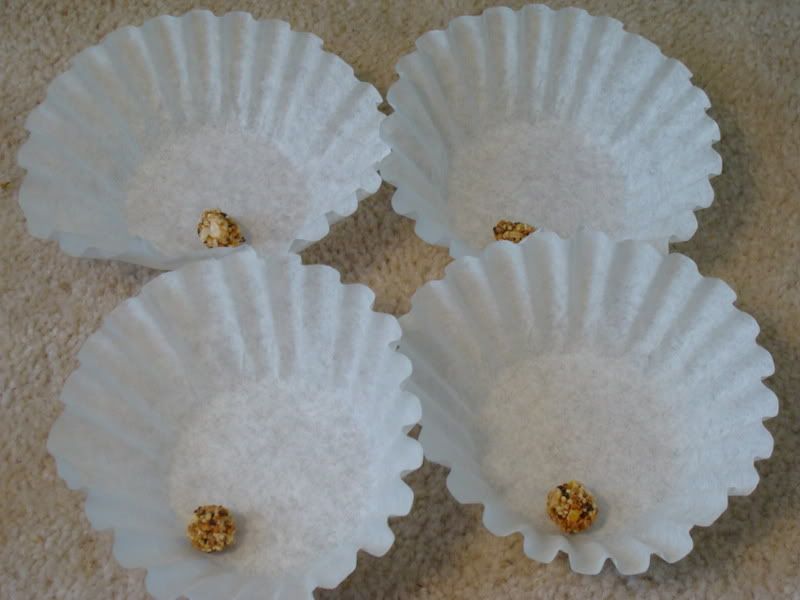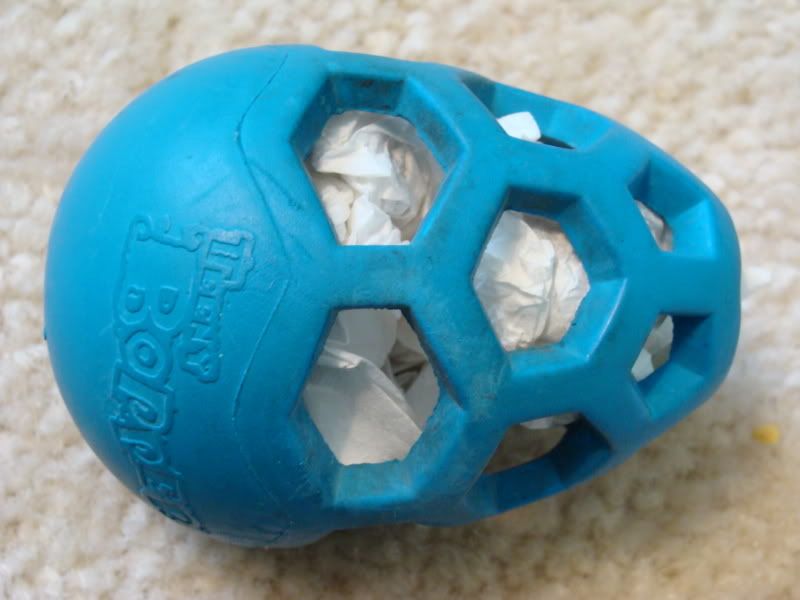 3)
Munch balls
, the next greatest thing since sliced bread. Well, for the birds that is! These balls are not only graet for birds that love to shred, the colors are also visually appealing, and they are good for your budget! These toys can be used to string up as a hanging toy, or as a single foot toy. What to do for foraging? Grab your birds favorite treat - I recommend perhaps some
bananas
or
cedar nuts
and stuff a couple pieces inside the ball. the birds will have a blast ripping through the whicker to get to the treat within.
4)
Star Bird Holey Kamole
.. greatest thing since.. well.. you get the idea. This toy is truly an inspiration. People are scratching their heads asking, 'now why didn't i think of this?' well, we are glad that someone did! This toy is perfect to the medium to large size bird that is not afraid to do some serious foraging. You can stuff this full of corn husks, shredded paper, cotton, whatever floats your boat. Then just stick some treats in and watch your birds work to get them out. This toy can be hung from the cage, set on the bottom as a foot toy, or even set on a perch! This toy is perfect for stuffing fresh veggies, and dried foods in
5)
Parrot Pinatas
are also great for foraging. Premade, they cost a small amount, and can easily be stuffed with your birds favorite dried food. They are great for birds that like color and shredding, and hold up well to medium and large size birds. They are the perfect size, large enough to be a challenge for a medium size bird, yet not too small for the bigger beaks as well. See? Foraging can be replicable and easy on both time and budget! Don't be hesitant to start implementing foraging activities into your birds daily schedule. Foraging activities such as these take no more time then filling a food dish, but are much better for your birds health & well being.
Special Thanks to:
By Emily "FreedomoFlight"