Items I use:
hot glue gun
hair pin of some sort
3-4 medium length feathers
a piece of a bracelet/necklace or anything that matches and can cover where the feathers are glued to the clip. I use little butterflies from the dollar store, or random pieces of accessories I find in my jewelry box.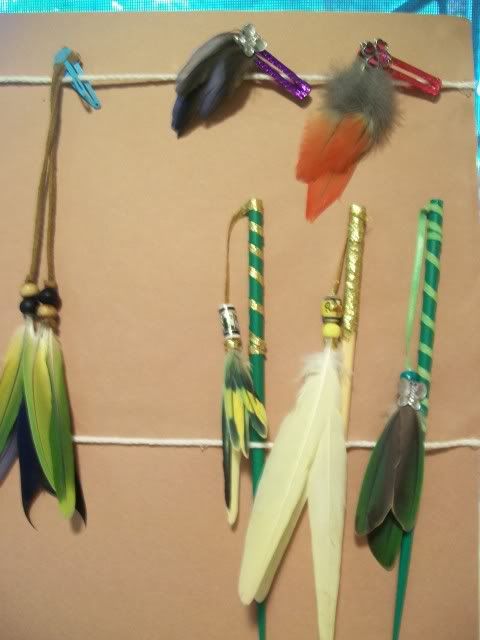 for the chopstick hair clips, I put small dots of glue on the stick while wrapping the ribbon around, and then choose a big bead and 3-4 feathers that match.
for the earrings I use:
small piece of fishing line (doubled over through the hook)
2 matching beads and 2-4 feathers
hot glue
trim fishing line ends close to the feather afterwards.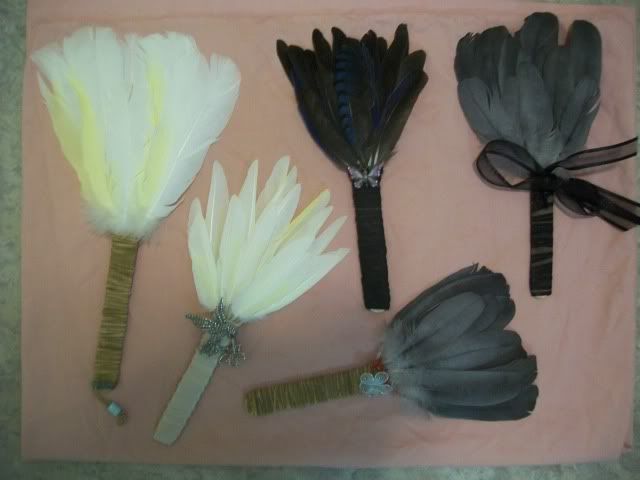 Feather Fans
Grab a popsicle stick, enough string to wrap it with, and a lot of molted wing/tail feathers. Glue all the feathers in place at the top of the stick. It helps to lay them out first. Wrap the string most of the way up the stick, covering up until the feathers and using glue to hold it in place along the way. I do a criss cross on the back with the string, as you can't keep wrapping it past a certain point. Then I grab something to put on the front, like a pin, ribbon, or fancy button.
Hope this helps someone in their craft endeavors!