One perceived negative aspect of owning lorikeets is that they have a specialized diet. This often puts off potential owners who otherwise might consider a lorikeet as a pet. While their diet is specialized, it is not more complicated than any other parrot diet, once you know what you're doing. A basic diet for a lorikeet is no harder to prepare than for most other parrots.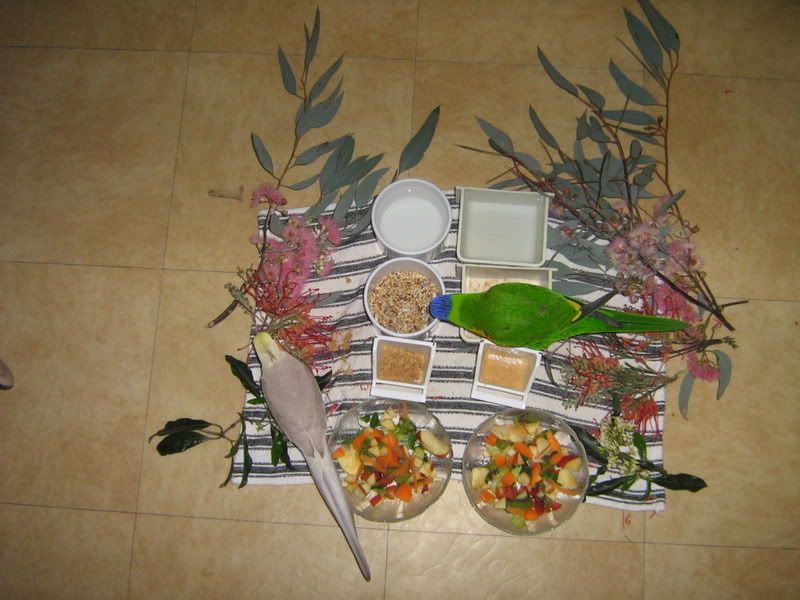 (of course Ash gets into the seed any given chance...)
My birds' typical feeding:

Large bowl:
Cockatiel: seed
Lorikeet: dry nectar,
Small bowl:
Cockatiel: weetbix
Lorikeet: wet nectar,
Fresh foods:
Cockatiel: more veg than fruit
Lorikeet: more fruit than veg,
Both
get loads of native flowers/ fresh grass seed every day...I won't go into treats and such, just basic diet!
Or you could think of it like this for perhaps a conure vs lorikeet:
Pellets= dry nectar,
Seed= wet nectar,
More veg than fruit = more fruit than veg,
Nuts and sprouts= native flowers and sprouts.
Birdy bread= fruit smoothies
So as you can see there is little difference except perhaps the fact that the wet mix has to be mixed with liquids (I use apple sauce/ fruit juice).
And a question
is weetbix ok? From what I know it is low in fat and sugar. Not sure about the salt... is there too much? Any Aussies know? This is just temporary before I switch my tiel to pellets.