Too long; didn't read:
My quail now has one leg.
I want to know if anyone else has owned a non-perching bird with one leg and how they coped with it. Also I'm not sure if he is in pain/sore, is there anything I can do about that?
Firstly, yes I do feel terrible that I didn't notice this earlier. Zenith my Chinese Painted Quail may still have two legs if this was treated earlier.
I noticed him walking really weird a couple of days ago. When I picked him up, I saw that his leg looked disgusting, like it was majorly infected. My vet (a bird specialist) is also our pet shop's vet so I took Zenith in for him to have a look. He said it looked like string or something similar has probably wrapped around his leg and to wash the scab off with warm water until I reach the string and can get it off.
Followed was a stressful time of trying to wash the scab off. In the end he started to bleed a little bit so I smothered him in cornflour and called it a night. Plus something just didn't look right about the scab and how deep it went. He obviously had no feeling in the leg either and his foot was swollen and some skin going black.
Despite this, he was still eating and doing normal quail things and when I went to get him to bring to work, he was happily snuggled up next to his quail friend/dad.
I had to work today so my dad brought him to the vet. Phoned later and talk me the vet had to remove the leg and he showed him "a lump of flesh that was the problem". I don't know if this means that something else was the problem, I will get more details from the vet on what exactly caused it when I go in next week for a follow up. He's on Baytrill to help prevent infection. The vet did it for free (he never charges me full price) but of course I want to pay him when I go in, he has been helpful.
Now my poor baby has his stump all bandaged up and is in a hospital cage. When I went to change his water he moved around surprisingly quickly... he just hops around and uses his wings for balance if needed. Eventually I want to get to a point where he is able to go back into the aviary with his friend, as long as he can move around easily enough and has adapted. That may not be for a while.
Has anyone else here owned a one-legged non-perching bird? Any tips on his care? This is my first disabled bird. Also I'm worried that his leg might be very sore, even if he's not showing it. Anything I can do about that?
Here's some photos of Zen from a couple of years back:
A couple of days old: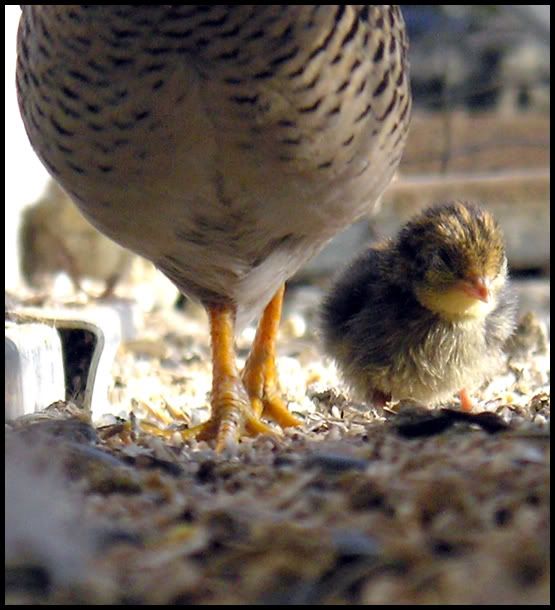 Half grown: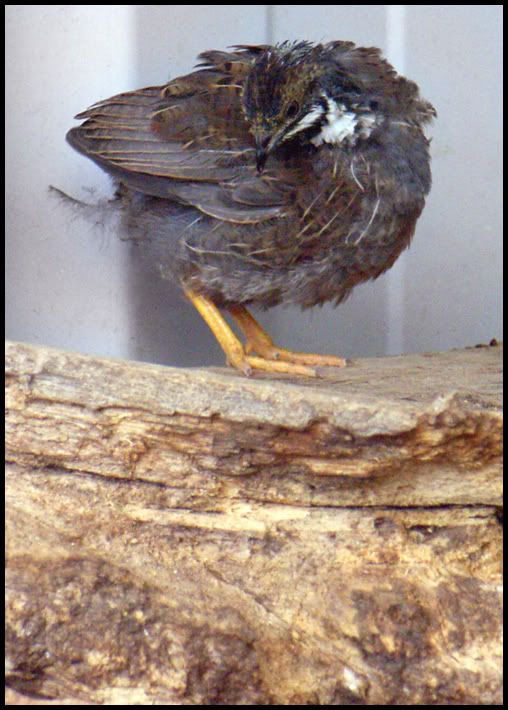 Adult: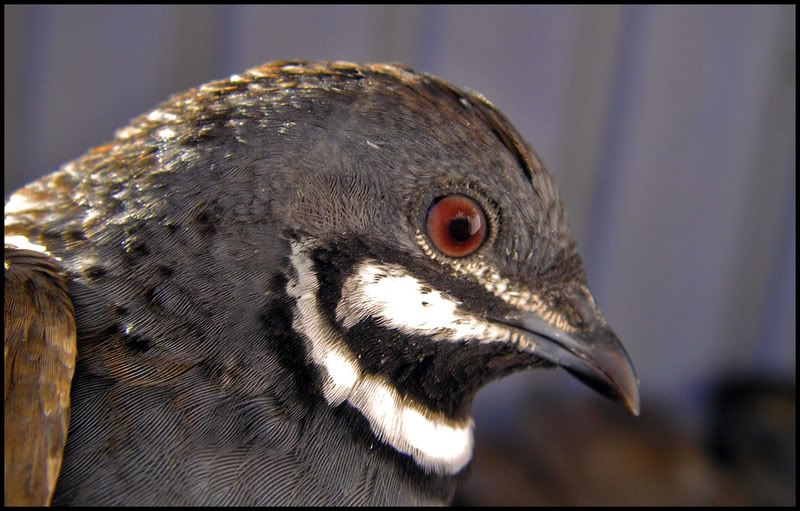 Photo of his leg I took yesterday: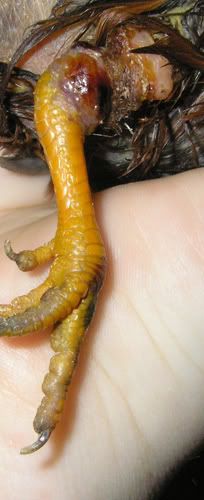 Today after the amputation:
Also a mini-rant: Today at work some customers came in to to buy some quails. As I was catching them, they were telling ME that it's ok to hold quails because they're not going to bite and don't be scared of them (huh? x__x ). I smiled and said I own quails as well and actually had one taken to the vet today to get his leg amputated. They were astonished and said they would have just thrown it to the cat, vet fees not worth paying for a $10-15 bird and I could just breed my quails to get more. I cannot believe some people. >:-(