Current pictures
Started by
sodakat
,
Aug 29 2010 05:23 PM
Posted 03 November 2010 - 02:50 PM
You've gorgeous birds, all in great feather. I love the branches you bring in, the birds seem to also.

Becky.....Where Fur and Feather Meet.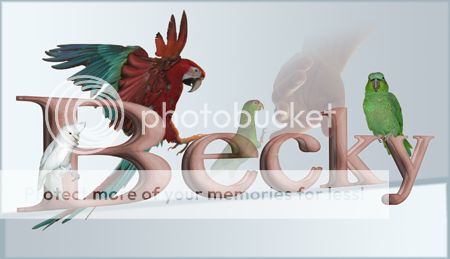 My Albums
---
Posted 04 November 2010 - 08:05 AM
Hi Katalin! Lucy is gorgeous but like your Moses she does not want to be touched. It gives her no pleasure, so other than having her step up for a quick kiss, I don't push it.

Because she is so independent, she keeps herself entertained all the time, and seems very content.
Now I start to use Carolyn's Intesiv Love Method. I hope it will help for us. But maybe you dont know, that since 2 weeks they are living in one cage.
http://picasaweb.goo...feat=directlink
[SIGPIC][/SIGPIC]
Mizo's flock:
Moses - RS ekki male (11.2009.)
Samson - SI ekki male (04.2008)
Csibészke - caique male (05.2005)
Bubi - caique female (12.2006.)
Zizi - caique female (12.2007) R.I.P.
Daniel - old, mixed dog
and I have a very patient hubby also!!!:ywink:
---
---
0 user(s) are reading this topic
0 members, 0 guests, 0 anonymous users