From my perspective for anyone who was curious on exactly what Parrots 2010 was like:
The convention spanned over three days, the first basically being an introduction to the convention in the evening. There was an aviary tour during the day on Friday which I unfortunately didn't get to, I know Mary and Jess went though. I do believe the collections included macaws (including one Hyacinth), amazons, exotic cockatoos, etc.
The next two days were absolutely jammed-packed with talks and I took lots, and lots and lots of notes. I personally got a lot out of these lectures... some things I vaguely had knowledge of but they were really pressed home and made crystal clear to me. It was a revelation. I learnt some completely new things too.
Throughout the day, there would be two lectures going on at once and you picked which one to go to. One relating to "Behaviour, Training & Enrichment" (most companion parrot people attended these) and one for "Breeding, Handrearing & Husbandry" (most aviary and breeding parrot people attended these). I went to all of the companion parrot ones, except for one in the other room about nutrition. Plus there were a few talks that everyone attended.
Between lectures, they were stuffing us with food (I overheard someone else say, "It seems like all we ever do here is eat!") and there were various bird stalls set up (toys, accessories, art, and others) where you could spend all your cash. And spend it all we did. XD
Plus there were three gorgeous and very well-behaved birds to interact with: a Greater Sulphur Crested Cockatoo, a Gang Gang Cockatoo and a Double-eyed Fig Parrot.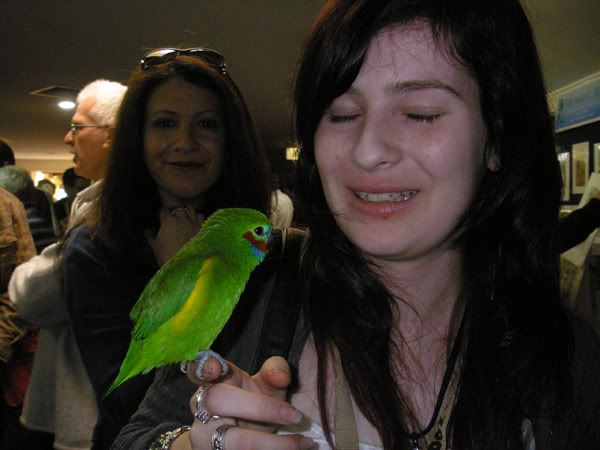 (no I can't keep my eyes open when my camera flashes, so sue me)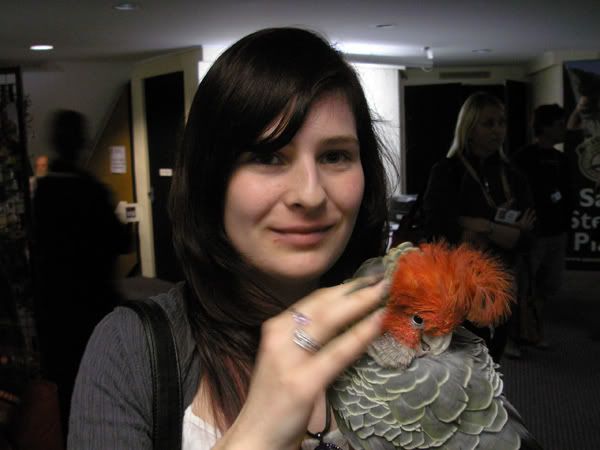 As for the talks themselves (the ones I went to)…
* Steve Martin, a fantastic animal trainer whom I've looked up to for a while, gave a couple of great talks about parrot training. The difference between positive and negative reinforcement and how to apply positive reinforcement. Using science-based skills along with empowerment, communication, respect, enrichment and trust. And introducing alternative desirable behaviours to replace undesirable behaviours.
* Susan Clubb gave a talk on nutrition. Things such as diet variety, using pellets and pellet conversion, what birds eat in the wild and how they are adaptable, conditions associated with malnutrition and deficiencies and what to do about them, plus plenty of tips on feeding.
* Alex Frankowski, head of the bird show at Australia Zoo, gave a talk about their birds and what they do all day.
* Jim McKendry gave a couple of really great talks. One was about outdoor enrichment and aviary design… something I was really happy to hear because I have been researching and buying books on aviary design for ages and never found information that really suited me. But his talk was spot on and included specifics of his aviary design as well as enrichment via flight, socialisation with other birds, enrichment via foraging, communication and natural behaviour. Jim is big on the opinion that it is very beneficial for birds to have another bird friend/s to interact with like they would in the wild.
His other talk I went to was on feather plucking birds and the different types of stress that may be the cause.
* Susan Friedman gave a couple of talks about changing undesirable behaviour. I didn't go to part one but part two continued on from the first talk and focused on identifying when the problem behaviour occurs, and the steps to come up with a plan to replace it with an alternative behaviour. She asked us to talk amongst ourselves about solving our own parrot's behaviour and I got some good ideas to deal with Axel's screaming.
* I went to Peter Odekerken's talk on photographing birds in the wild and captivity. I was really happy he gave a talk because I adore his photos and frequently refer to his book on lories and lorikeets!
* Other rather inspiring talks were given by David Waugh on the Loro Parque Fundacion as well as their fantastic efforts in conserving wild parrots, Rob Heinsohn on wild Eclectus parrots (as seen on the Land of Parrots DVD), Palm Cockatoos and Swift Parrots, and Nicholas Bishop on becoming better birdkeepers and aviculturists in general.
If that sounds like a lot to take in, it's because it was! XD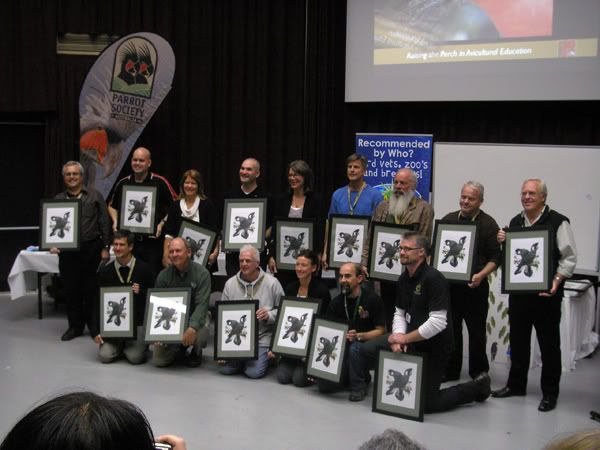 The speakers.
On top of all this, there were raffles, door prizes and freebies galore. There was even a silent auction for a pair of friendly Hahn's Macaws.
However, what made this convention *just as much* an enjoyable experience for me, were the people who attended! I met some really great people, including Jess and Mary on this forum. I met other people from forums who I didn't know were attending. I talked to new people about their experiences with birdkeeping and swapped ideas. There were all sorts of people there, from people like me with a single companion bird (and a few out the back
) to breeders, avian vets, etc.
The people who spoke at the lectures don't act like elitists who give talks and you never see them again. They are there amoungst everyone else, taking everything in. Steve Martin sat at our table during the Saturday night dinner and it was nice to hear a few more words from him.
This was my first Parrots convention and I have no doubt that I will go to the next one in 2012. It's not only a learning experience, it's about connecting with people who are as crazy about birds as you are and enjoying the atmosphere.